What You Should Know About Bankruptcy in 2020
It's that time of year when most people have lost their determination to keep their New Year's resolutions. The failure rate for New Year's resolutions is at about 80 percent, according to U.S. News & World Report.
If you resolved to find financial peace this year, don't give up. We're here to help you on your journey.
We're well aware that dealing with the prospect of bankruptcy can lead to feelings of helplessness, anxiety, depression, and/or stress. It can be hard to maintain your confidence during this process as well. Don't be embarrassed either, bankruptcy is fairly common in the US, and for many is only a medical emergency or layoff away.
We know that most people never expected to go through the process of filing for bankruptcy and are not sure where to start. Bankruptcy is not something people plan for. Each case is unique and outside expertise makes all the difference for your peace of mind. You deserve to sleep easy in 2020.
What You Can Expect
There are several things to consider when it comes to bankruptcy. Here's what you need to know in the year ahead:
Starting The Process Is Easy With Woodall & Woodall
While you may have feelings of embarrassment, it's essential to be proactive. Talking with a trusted bankruptcy expert will help shed light on your set of unique circumstances. About 20% of cases don't even need to file for bankruptcy, as there are alternative solutions to recover your financial standing.

The process of bankruptcy requires time and effort. You must submit documents detailing your financial affairs. Specifically, you need to prepare Schedules A through J as well as the Statement of Financial Affairs. These documents must be prepared accurately for the process to proceed.
Working with Woodall & Woodall makes this process incredibly easy and efficient. We prepare all the required documents on behalf of our clients. Starting the bankruptcy process today means that you are that much closer to regaining control of your life and your financial freedom.
Bankruptcy Cost
Don't let questions on the cost of bankruptcy stop you from reaching out. Many factors determine the cost of filing for bankruptcy. The initial filing fee is relatively standard, depending on whether you are filing a Ch.7 or Ch.13 bankruptcy. After the initial filing, subsequent costs depend on the unique factors associated with your case. We'll be glad to discuss all these specifics with you.
When it comes to hiring an attorney, keep in mind that low cost does not always translate to excellent value. Lower fees could signal that the lawyer has little experience in bankruptcy cases or will cut corners on your case.
You Are Not Alone
Bankruptcy can happen to anyone. The job market is competitive, consumer demands are always in flux and medical emergencies can happen at any time.
People worry if their neighbors and friends are going to find out if they filed for bankruptcy. The truth is, very few people are going to know that you filed. Unlike a foreclosure of real estate in Georgia where an ad is run in the legal section of the newspaper, bankruptcy does not print legal ads in the newspaper or any other print medium. Now, credit reporting agencies will pick up the bankruptcy. However, how many of your friends have the ability to run a credit report? And even if they do, true friends really don't care – they just want what's best for you.
And remember, by working with Woodall & Woodall, you won't be going through this process alone. We'll be by your side throughout the entire process, including representation in court proceedings.
We Do Need the Complete Picture
Complete honesty is vital during the bankruptcy procedure. We'll talk about your complete financial situation in the initial consultation. Don't leave anything out! This would make the process more complicated down the line, and courts have taken the position that only honest debtors are entitled to a discharge of debt.
Generally, we ask that you bring your most recent tax return and at least the last six months' pay stubs. This puts us in a good position to file quickly. If you are really getting pressured (such as wages are being garnished), and you have another paycheck coming in the next week, we can normally get you filed for bankruptcy in one day so that you are protected by the court and garnishments are stopped.
Bankruptcy Protects You Immediately
The ultimate goal of bankruptcy is to discharge your debt. However, we also know you may be being harassed by creditors or in fear that you may be facing foreclosure on your home. When you file for bankruptcy, an automatic stay is put in place and protects you immediately.
This is a breath of fresh air and gives you peace of mind by preventing creditors from calling your home as well as staking claims on any property you own. Any current foreclosure processes will stop.
Do know that this protection is limited to the individual filing for bankruptcy. For example, if a friend or relative ever cosigned a loan with you, bankruptcy does not wipe out that debt completely. (The lender could still pursue debt collection from the cosigner. This is crucial to know if any cosigners are not going to file for bankruptcy.) It does however limit your responsibility in that debt obligation. We are glad to talk through any other questions you may have about your financial situation.
You Can Rebuild Your Financial Life
Declaring bankruptcy can remain on your credit report anywhere from 7 to 10 years. But with strategic planning, we can help you recover to a "good credit rating" in just two to five years after filing bankruptcy. Sometimes faster.
Remember, bankruptcy was created to give people a second chance at realizing their financial dreams. Taking on small amounts of credit and making timely payments can help you overcome the temporary impacts of declaring bankruptcy on your credit score. There is more about how to rebuild your credit by in our free our book Life After Bankruptcy. Learn how to practice good credit habits and improve your finances.
Bankruptcy is a valuable tool for finding financial peace
Bankruptcy elicits powerful emotional responses. But it is important to remember that bankruptcy is also a way to handle your finances responsibly and get a second chance at financial security. Approach the bankruptcy process with careful planning and education to ensure that you navigate the system effectively and achieve your desired outcome. Remain grounded throughout the process and rely on the trusted attorneys at Woodall & Woodall to help guide you.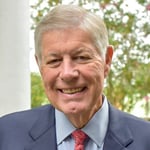 Orson Woodall, owner and founder of Woodall & Woodall, is a 25-year veteran attorney helping Georgians break free of the stress and difficulty of overwhelming debt. Based in Valdosta, GA, Woodall & Woodall has helped more than 23,000 individuals find financial relief through bankruptcy.