Stop Harassing Calls And Letters NOW
Creditor harassment can come in many forms. Harassing phone calls may be the worst. Feeling scared or embarrassed every time the phone rings is no way to live. Fortunately, you don't have to put up with this anymore.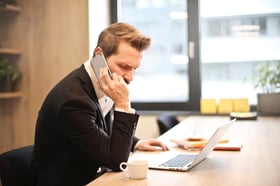 Filing bankruptcy can stop creditor phone calls and letters as well as other types of harassment. To learn how it can help you, speak with a lawyer at Woodall & Woodall. We have the experience to explain the benefits of filing bankruptcy in your specific situation. With more than 30 years of combined experience, our attorneys are well-prepared to assist you.
How Bankruptcy Ends Harassment
When your bankruptcy is filed, we notify creditors that they may not contact you about debts. This means they cannot send letters or emails, make phone calls to your cellphone, home or workplace, or harass you in person - this is called an automatic stay.
Automatic stay is what prohibits creditors from contacting you directly after you file. All chapters of bankruptcy provide the protection of the automatic stay.
You Can Get Your Life Back
Please call our office in Valdosta at 229-247-1211 for a free consultation with an attorney. You can also complete the online contact form if you prefer.
We are a debt relief agency. We help people file for bankruptcy relief under the Bankruptcy Code.